More Choices for your Research.
New Stellaris DesignReady Assays now Available.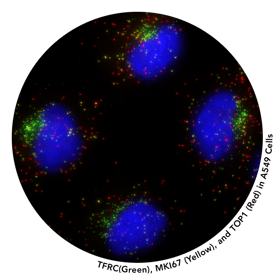 The Stellaris team has just released their newest additions to the DesignReady catalog. Included in the latest round of designs are a number of additional targets to our existing panels for neuroscience, long non-coding RNA (lncRNA), and human cancer related targets. Here are some highlights about a few of our new designs:
Assays related to gene editing systems: We now offer Cas9 for CRISPR applications and Cre recombinase for transgenic animal models. These reporter assays allow you to see when the expression of these targets is induced within a cell.

Expanded line of foundation genes: You now have more options for controls for your Stellaris experiments with additional assays designed across a broader range of model organisms and livestock.

Additional iceFISH assays: Visualize genes being actively transcribed. iceFISH assays detect the introns of nascent RNA to detect when a gene is being actively transcribed within a cell.
LGC Biosearch Technologies' DesignReady Assays take the guess-work out of designing your own assay. These pre-designed catalogued assays have gone through rigorous bioinformatic analysis to ensure specificity. Stellaris DesignReady Assays are made-to-order, with a delivery of 5 nmol of pooled oligos. Many of them are available in the following dyes: Quasar® 570, CAL Fluor® Red 590, CAL Fluor Red 610, and Quasar 670. Each set costs $725 and ship between 5-7 business days.
Cancer Target Assays
Neuroscience Assays
iceFISH™ Assays*
* iceFISH Assays: Our line of iceFISH assays use Stellaris probes to target RNA introns. Because introns degrade rapidly after splicing, this allows the measurement, visualization, and detection of actively transcribing genes.
lncRNA Assays
Reporter Gene Assays*
* Reporter Gene Assays: These assays will allow the visualization of Reporter Gene RNA expression.
Foundation Gene Assays
Other Assays